Refurbished Private Airport Lounge Located in Turks & Caicos Airport Now Has a More Modern Appearance; Maintains the Same Stellar Service for Travelers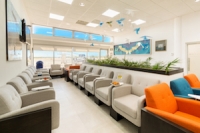 FOR IMMEDIATE RELEASE / PRURGENT


Turks & Caicos, Providenciales (April 26, 2018) – The VIP Flyers Club, a private airport lounge in Turks & Caicos, has just unveiled a $150,000 renovation that has completely transformed the space into an even more luxurious experience for travelers at the Providenciales International Airport in Turks & Caicos. Operated by Olympia Destination Management Company, the upgraded lounge offers all the same VIP services as always, enhanced by many new upgrades, including the signature Expedited Airport Services that it is well-known for providing.

"The VIP Flyers Club provides an exclusive expedited service to our customers making the entire airport experience easy, relaxing and seamless," said Caesar Campbell, Managing Director of Olympia Destination Management Company. "Now our VIP guests will enjoy our services in a more modern, beautiful space than before, with additional perks and impeccable service."


The new and improved 40-seat, luxury VIP Flyers Club offers guests privacy, comfort and world-class service with the intention of extending the vacation for travelers and making it a pleasant experience from touchdown to takeoff. VIP Flyers Club guests entering the country will be whisked away by a personal meet and greet agent immediately upon arrival and be expedited through Immigration and Customs and then escorted to their private transport. VIP Flyers Club service guarantees "toes in the sand" as soon as physically possible!


New VIP Flyers Lounge
Those guests departing the islands will be personally escorted and expedited at airline check-ins and security check-point lines with no waiting times. After the process is completed, they will have full access to the brand-new, redesigned VIP Lounge where they will enjoy Wifi, loaner laptops, printers, scanners, air-conditioning, Satellite TV, International calls, magazines, newspapers and light refreshments including coffees and wine. Within the lounge itself, upgrades include brand-new comfortable seating, as well as new floors, tables and artwork. The color scheme is a relaxing, muted neutral with pops of Caribbean colors and joyful artwork. The overall design is both invigorating and calming. New amenities include cappuccino and espresso makers, as well as complimentary Whispering Angel red and white wines.

Prices for all the services offered by the VIP Flyers Club can be found on the VIP Flyers Club website.

Media Contact: Jennifer Forte Cuomo / Jennifer
jfcpr.com / 917-538-1225

# # #

About VIP Flyers Club
The VIP Flyers Club operated by Olympia Destination Management Company is one of a kind in the Caribbean. Intimate and luxurious, this 40-guest flyers club is uniquely designed to handle the demands of Caribbean airports and Turks and Caicos Travel. The super-sleek addition is tucked away discretely and admits an abundance of natural light. Travelers at the Club will rest in air-conditioned, noise-free comfort with unlimited refreshments and communication devices at the ready. Our Flyers Club refines the meaning of the all-inclusive Turks and Caicos vacation. Providenciales International Airport is no longer just an entry and exit point. The VIP Flyers Club expands the travel and vacation experience. VIP Flyers Club was nominated for the Caribbean's Leading Airport Lounge 2018 by the World Travel Awards.
For more information on the VIP Flyers Club go to https://vipflyersclub.com or call 1-888-226-0042 to reserve a spot.

About Olympia Destination Management Company
Olympia Destination Management Company, a 12 year old locally owned company, is the foremost destination management company in the Turks and Caicos Islands. Using a wealth of detailed knowledge on the Tourism sector of the Turks and Caicos Islands, they create memorable Turks and Caicos vacations for their clients. With years of knowledge and experience in tourism, coupled with close ties with some of the most sought after service providers on the island, they are able to create innovative and unforgettable Caribbean adventures to the Turks & Caicos Islands. Olympia Destination Management Company was the recipient of the 2017 World Travel Awards "Leading Destination Management Company, Turks & Caicos."

For more information go to http://olympiadmc.com/ or call 1-888-226-0024.