PubHTML5 is the best platform for digital magazine publishing where users can upload their existing PDFs.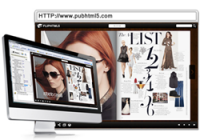 FOR IMMEDIATE RELEASE / PRURGENT

PubHTML5 is a leading platform for digital magazine publishing that makes a revolution in the digital publishing industry. It gives digital marketers around the globe a chance to publish their digital magazines in the most cost-effective way. The ready magazines can be read both online and offline using PCs, tablets and mobile phones.

It is a matter of a few minutes to turn a static PDF file into a dynamic and eye-catching magazine. The publisher doesn't need a design or other technical background to perform this task, as PubHTML5 platform has all features required to provide a powerful and rich content that attracts people's attention. The software is extremely user-friendly and contains hundreds of templates, backgrounds, music, video, animation effect, etc. that can be customized for a more personal touch.

Jason Chen, CTO (Chief Technology Officer) of PubHTML5, says: "Knowing that the world today and in particular businesses mainly depend on technology, we built this platform with digital publishers in mind. It gives them an opportunity to achieve their goals without spending thousands of dollars for graphic designers, video developers, web developers, etc. Now, they can complete all these tasks with a very limited budget, yet being able to draw the attention of the targeted groups. The result surpassed our expectations and already more than 60,000 companies chose us as their reliable business partner. We are soon to reach 11 million digital publications hosted on PubHTML5."

Whether people have to create and publish online magazines, catalogs, e-books, newspapers, business brochures, corporate reports, event flyers, product catalogs or other multi-page printed materials, PubHTML5 is the best solution to them.

For more information on the amazing opportunity given by the PubHTML5 digital magazine publishing platform, please visit http://pubhtml5.com/.

About PubHTML5
Being a world leading technology provider, PubHTML5 offers digital publishers around the globe cost-effective and user-friendly software solutions for digital publishing. The platform makes a revolution in the industry by enabling people without any technical education to convert any static printed material into a thrilling and intriguing digital publication that would keep the interest of readers of all ages.