An autobiography of a migrant, Indian doctor. The exhilarating story of growing up in colonial India with its age-old customs and traditions. A poignant tale of leaving it all behind in search of the proverbial American Dream and succeeding in earning it.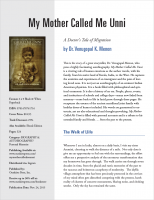 FOR IMMEDIATE RELEASE / PRURGENT

October 29, 2015 – Denver, CO, and Houston, TX – It is often said that geography is destiny. My Mother Called Me Unni is the story of one man who left his homeland and his family in the 1960s to find his own destiny in the melting pot of the United States. The book was written by Dr. Venugopal Menon and published by Outskirts Press.

Beginning in the late 1960s, hundreds of thousands of people migrated to the U.S. from India, including thousands of physicians. Today, Indian Americans are the wealthiest and most educated minority group in the country. What drove them to leave their homeland? What values and experiences did they bring with them? And how are they transforming America?

Out of enigmatic experiences comes this surprising yet uplifting portrait of life, narrated by Dr. Venugopal Menon, who draws upon his cherished childhood in India and the teachings of his ancient heritage to question, understand, and ultimately assimilate into his new country, an exhilarating realization of the American Dream. This book is essential reading for every migrant who left the land of their birth in search of a different destiny, and for those who are curious to know what that's like.

Venugopal Menon was born into a large, middle-class traditional Hindu Nair family in Kerala, India. Raised during the pre-independence years of British India, he witnessed the country gaining its freedom and the establishment of a Democratic Republic. Even with limited economic resources during the global depression, the hardship in his life was easily overshadowed by the abundance of love he received. His memoir details his happy childhood, with all its colorful festivals and traditional rituals.

The author, receiving his first pair of shoes in the sixth grade and having to use kerosene lamps before electricity came to his house, moved on to America and became the president of a nationally reputable medical clinic and a Fellow of the Royal Society of Physicians, London. As he settled into a life of luxury and prosperity, he also played a significant role in creating a standing for the Indian community in society. The narration covers the discrimination he faced in the USA, as well as amusing stories of getting familiar with the local customs and trying to become Americanized.

Venugopal established his status as a highly regarded physician, became part owner of a thriving practice, lived in a luxurious, custom-built home in a desirable neighborhood, and his children excelling in education. Then he decided to forsake all such affluence to move back to India, to be of service to the needy patients and put his foreign training to use.

The story gets complex as he earns a national standing in a newly established, eminent hospital system in India, with patients coming to see him from all over the country and his parents and large spread of family members close at hand. But due to extenuating circumstances, he is once again forced to abandon all those gains and go back to the place he thought he had left for good. And fortunately his old practice embraces him with open arms.

The book continues with his re-establishment in America, tying up all loose and lost ends, getting elected as president of the clinic for eight years before he retires. During his second inning, he becomes intimately involved in numerous social, cultural, religious, and philanthropic endeavors of the Indian community as well as of the mainstream.

The conclusion elaborates on his seven decades in different continents, about his professional, family, and social obligations, and how his life may have affected others. In his introduction, he laments his decision to leave India: "And it took several decades and intense introspection before the impact sunk in, of my role and responsibility in that act, of tearing away from our centuries-old genetic bond and its implied immensity." But he concludes with a gracious note: "As an individual, I have remained eternally grateful to receive a life that has rewarded me with a sumptuous treat. I am convinced that I cannot ask for more or expect more, as I stay ultimately comfortable with the assurance. I am content. I am blessed."

"A fascinating and admirable history. The detailed and descriptive chapters in this book create entire cultural worlds for readers to learn from, enjoy, and remember." —Chitra Divakaruni, international award-winning and bestselling author, Houston, TX

"An inspiring story, a wonderful saga of a migrant in America." —Tom Reid, Mayor of Pearland, TX
***This is the story of a great storyteller. It is a riveting tale of human emotions, of relationships, of the anxieties of an immigrant, of having to leave family and traditions for generations. It is the history of an era. The narration is guaranteed to entertain, yet are educational and thought-provoking.

*Unique, informative and exceptionally interesting.