FlipHTML5, the leading digital publishing solutions developers, announced the launch of online page editor for content enrichment.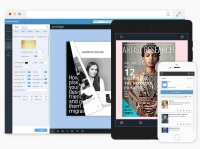 FOR IMMEDIATE RELEASE / PRURGENT

FlipHTML5 is undoubtedly a force to reckon with in the world of digital publishing, with several digital publishing solutions offered to businesses in different industries. The company has recently announced the addition of an online page editor feature to its popular HTML5 flipbook platform. This is to allow users of the platform enrich the HTML5 flipbook content with links, videos, images and audio contents.

HTML5 flipbook is one of the most effective ways of communication, allowing users to relay their messages in a way that is easy to understanding and captivating enough to retain the attention of the audience. However, creating HTLM5 flipbooks has not been particularly easy until the emergence of FlipHTML5's HTML5 flipbook platform that allows anyone and everyone to create captivating HTML5 content regardless of the level of their computer knowledge or skills.

The team at FlipHTML5 led by Anna Lee, the designer of FlipHTML5, has gone a step higher to add the online page editor that allows users to make their content more engaging and effective by adding links, videos, images and audios. Using a simple drag and drop feature, the online page editor is available online, requiring no software download.

Anna Lee pointed out "we are going to bring more desktop function to the HTML5 flipbook platform so that you save time in editing and publishing the flipbook. It is the first step as well as essential step to carry out the online page editor. In the future, we will bring you more surprise."

For more details, please head to FlipHTML5 official site:http://fliphtml5.com/.

About FlipHTML5

FlipHTML5 is headquartered in Hong Kong and as one of the world leading providers of digital publishing software; the company offers a wide range of e-publishing software for users around the world. The company also offers customized solutions for publishers in different industries such as Game, Firm, Fashion, and Finance.