The new murder mystery is book 6 in the Monastery Murders series. Reviewers have compared her work to PD James, Dan Brown and Barbara Pym.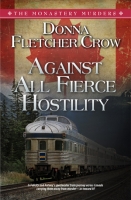 FOR IMMEDIATE RELEASE / PRURGENT

Award winning author Donna Fletcher Crow has announced the release of book 6 in the Monastery Murders series, Against All Fierce Hostility.

The Monastery Murders moves to Canada when Antony is invited to lecture on the British saints who inspired the founding of Toronto and Felicity couriers an ancient manuscript connected with Saint Patrick to monasteries in Montreal and Vancouver. A spectacular train journey across the breadth of the continent carries them even further away from the murder Felicity witnessed in England. Or does it?

Reviewer have given Crow's mysteries high praise, with comparisons to PD James, Dan Brown and Barbara Pym:

- "In Against All Fierce Hostility, Donna Fletcher Crow continues her signature brand of blending church history with the twists and turns of a cozy mystery as Antony and Felicity journey across Canada, dogged by shadowy people and circumstances. Crow sprinkles the clues and red herrings throughout the story so ably that I couldn't figure out the villain until the shocking ending.

"The marvelous details of Antony and Felicity's trip across Canada give a glimpse into the country's expansive geography and its youth as a country. Crow brings the Canadian setting to life–glaciers, mountains, northern lights, prairies filled with grain from horizon to horizon, lakes by the thousands–it's a canvas that provides the perfect expanse to who's after the original document from St. Patrick's lifetime. And it provides the perfect crime scene for the astounding ending. Lovers of PD James will enjoy this new twist on The Monastery Murders." - Laurie Wood, Author of the Heroes of the Tundra Series

- "In A Darkly Hidden Truth, Donna Fletcher Crow creates a world in which the events of past centuries echo down present-day hallways—I came away from the book feeling as though I'd been someplace both ancient and new. Donna Fletcher Crow gives us, in three extremely persuasive dimensions, the world that Dan Brown merely sketches." - Timothy Hallinan, The Queen of Patpong, Edgar nominated Best Novel

- "With A Darkly Hidden Truth Crow establishes herself as the leading practitioner of modern mystery entwined with historical fiction. The historical sections are much superior to The Da Vinci Code because she doesn't merely recite the facts; she makes the events come alive by telling them through the eyes of participants. The contemporary story is skillfully character-driven, suspended between the deliberate and reflective life of religious orders in the UK and Felicity's 'Damn the torpedoes, full steam ahead' American impetuousness.

"Her descriptions of the English characters read like an updated and edgy version of Barbara Pym. A Darkly Hidden Truth weaves ancient puzzles and modern murder with a savvy but sometimes unwary protagonist into a seamless story. You won't need a bookmark—you'll read it in a single sitting despite other plans." - Mike Orenduff, 2011 Lefty Award Winner, The Pot Thief Who Studied Einstein

Crow says, "For many people one of the most disruptive aspects of the Covid-19 pandemic has been the forced cancellation of travel for business, family and recreation. My husband and I have had to cancel four much-anticipated international trips and numerous ones to visit family in the States. We find ourselves filling that void in our lives with armchair travel through such programs as "Rick Steves' Europe" and "Mighty Trains," as well as reading books set in distant locations. I am excited to be able to offer readers who are feeling home-bound a new book to take them on a vicarious adventure."

About the Canadian background of her new book Against All Fierce Hostility, Crow says, "We are so fortunate that we took the trip that served as research for my book last year. Riding the luxurious Canadian across the continent had been at the top of my bucket list for years. As soon as my husband told me he had managed to secure reservations for the long-dreamed-of adventure, I knew that had to be the setting for my next book.

"It was truly the trip of a lifetime—the service exquisite and the scenery stunning. And it was great fun re-living it all through the eyes of my characters—although fortunately, we didn't have to cope with the presence of possible murderers like Felicity and Antony do."

Donna Fletcher Crow is the author of 50 books, mostly novels of British history. She has taken a number of high-level industry awards for her work. 'Glastonbury' is her best-known book, which received the prestigious First Place, Historical Novel, award from the National Federation of Press Women. Readers and reviewers have raved about 'Glastonbury', calling it "The best of its kind," "richly fascinating," "beautifully researched," "gloriously evocative," and "panoramic." One Amazon reader said, "WHAT a work! Every reader can be enveloped in the sheer scope and quality, every historian be constantly nodding at the precise detail and accuracy, and every Christian can rejoice in the fullness of scripture. For me it is simply beyond descriptive praise. I would urge all who value truth to treat themselves to a feast."

The Monastery Murders Series features atmospheric contemporary crimes with their roots buried deep in the middle ages. Books in the series include 'A Very Private Grave', 'A Darkly Hidden Truth', 'An Unholy Communion', 'A Newly Crimsoned Reliquary' and 'An All-Consuming Fire' and 'Against All Fierce Hostility.'

The Lord Danvers Victorian true-crime series is an Amazon bestseller in the British Detectives category. Books in the series include 'A Lethal Spectre', 'A Most Inconvenient Death', 'Grave Matters', 'To Dust You Shall Return' and 'A Tincture of Murder'.

The Daughters of Courage, 'Kathryn', 'Elizabeth' and 'Stephanie' is a pioneer family saga based on the stories of Crow's own family and other Idaho pioneers in the Kuna, Nampa and Boise area. A short story on her blog entitled "A Nostalgic Fourth of July" is based on a scene from 'Kathryn: Days of Struggle and Triumph'.

The Elizabeth & Richard Mysteries is a literary suspense series using literary figures as background: Rudyard Kipling in 'The Flame Ignites', Dorothy L Sayers in 'The Shadow of Reality', Shakespeare in 'A Midsummer Eve's Nightmare', and Jane Austen in both 'A Jane Austen Encounter' and 'A Most Singular Venture'. Watch for 'A Prodigious Sum of Corpses: Seeking Sanditon at Jane Austen's Seashore', which will take readers to all of Austen's favorite seashore resorts. Accounts of Crow's visits to these sites are available on her blog under the heading "Jane Austen Seashore Tour."

Donna provides a no-charge download of 'A Tincture of Murder' from the Lord Danvers Investigates series for those who sign up for her newsletter. More information is available at her website.

Donna Fletcher Crow's awards include:

Where Love Begins, Best Historical Romance, Pinnacle Awards 2019
A Lethal Spectre, Best Mystery, Pinnacle Awards, 2019
Glastonbury, First Place, Historical Fiction, National Federation of Press Women Award of Merit
The Banks of the Boyne, Silver Angel; First Place Historical Fiction, National Federation Press Women
The Fields of Bannockburn, First Place Historical Fiction, National Federation Press Women
Professional Achievement Award, Northwest Nazarene College
Juvenile Books Award of Merit, Idaho Press Women
Top Idaho Author
Pacesetter Award, Mt. Hermon Writers Conference
Outstanding Historical Fiction, Idaho Press Women, National Federation of Press Women,
Idaho Writer of the Year
Best Inspirational Novel, Finalist Romance Writers of America
Writer of the Year, Mt. Hermon Writers Conference

Donna is available for media interviews and can be reached by email at donna
donnafletchercrow.com. All of her books are available at online book retailers. More information, including a no-charge download of 'A Tincture of Murder', is available at her website at https://www.donnafletchercrow.com.

About Donna Fletcher Crow:

Donna and her husband live in Boise, Idaho. They have 4 adult children and 15 grandchildren living on 3 continents. Donna is a former English literature teacher and lifelong Anglophile. Idahoans with long memories will remember her as a former Queen of the Snake River Stampede, Miss Rodeo Idaho and runner-up for Miss Rodeo America. She is an enthusiastic gardener.