This software is perfect for fast and efficient creation of custom videos that can be published in YouTube and all other social media websites.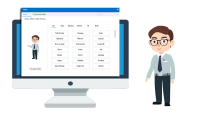 FOR IMMEDIATE RELEASE

Animiz animation video presentation software enables businesses and private people to easily make stunning videos and to share them with the entire world in YouTube social video channel. This user-friendly software is intended to save time and money and provides an opportunity to create amazing animation video presentation for YouTube (http://www.animiz.com/pages/animation-video-presentation-for-youtube/) in a matter of minutes.

YouTube is considered one of the most effective marketing methods nowadays. Businesses that would like to take advantage of this popular video channel can literally save thousands on global marketing campaigns by using the free software for animation video presentation for YouTube. Thanks to Animiz, they can create an outstanding video that can describe perfectly their message and present their business adding tones of attractive features to it, like camera effects, dynamic roles, animated characters, etc.

Along with the video, people are able to add appropriate audio that can enhance its effect even more. They can even use a different background music for different scenes for premium watching experience. Another feature of this animation software for windows is its subtitle editor that allows users not only to add subtitles, but to customize the font setting as well.

Once the video is ready, it can be viewed both offline via Cloud and online by publishing it in YouTube, Facebook, Instagram, and other popular social media websites, where it can get millions of views and shares.

Jason Chan, the manager of Animiz, says, "Animiz is now the easiest way for the businesses to publish their advertisements in the YouTube. We made it as simple as possible and at the same time so effective and customizable that it is simply unbeatable by the competition."

To learn more about how Animiz helps businesses to create their own amazing videos and share them in YouTube, please have a try now.

About Us:

Animiz Software Company is created with the goal to provide businesses, educators, and private people with the most effective and affordable methods for making video presentations. Moreover, they provide free all-in-one animation software for Windows (http://www.animiz.com/pages/creative-animation-software-for-windows/) that enables users to create custom breathtaking videos and attract audiences globally.