Customers Can Place Orders for Forthcoming 10.5 Leather Folios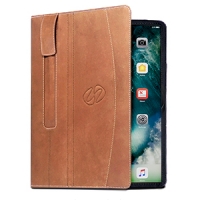 FOR IMMEDIATE RELEASE

MacCase has announced they have begun pre-ordering for their new leather iPad Pro 10.5 cases. The first production models are scheduled to ship to customers in mid July. The forthcoming 10.5 Folio design is the latest addition to their Premium Leather Collection and will feature the company's industry leading protection for the Apple Pencil.

"The new iPad Pro 10.5 is pushing our design and engineering staff to come up with solutions that carry on the MacCase tradition of functional excellence within our Folio designs. These solutions, combined with our timeless aesthetics and world class build quality, will further our reputation as the makers of the world's best iPad Pro cases", explained Michael Santoro, Chief Creative Officer and President of MacCase.

The new leather iPad Pro 10.5 cases will feature an auto on/ off, sleep/ wake cover, "SoundBoard" speaker enhancement, ultra-suede interior, a stamped alloy structural frame with cover-to-frame offset protection and foldable movie and typing modes among others. Prices for the new Premium Leather iPad Pro 10.5 cases carry an MSRP of $159.95 and are available in pebble grain black, distressed Vintage and for the first time, Blue Vintage. A matching leather accessory pouch for the charging cable and other small accessories is available for an additional $40.00. More details can be found at the company's website - https://www.mac-case.com/collections/leather-ipad-pro-cases/products/premium-leather-ipad-pro-case

About MacCase

MacCase invented the Apple specific case market in 1999. The company offers two distinct products lines, one in nylon and one in leather that consists of a broad range of cases, messenger bags, sleeves, folios and backpacks for Apple MacBook, MacBook Pro, iPad Pro and iPad models. MacCase products can be found at Ebags, Staples.com, OfficeDepot.com, MacMall and Walmart.com. MacCase products can also be purchased directly from www.mac-case.com.