On Monday, May 1st, the Black Vegetarian Society and A Well-Fed World present the first-ever "Musical Meatless Monday" at Northwestern High School, 6900 Park Heights Avenue in Baltimore. In partnership with the Meatless Monday organization. Meatless Monday is global movement with a simple message: once a week, cut the meat.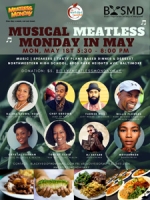 FOR IMMEDIATE RELEASE

Baltimore City and surrounding communities are invited to attend an evening of live entertainment while enjoying a meatless meal and listening to some lectures at the Musical Meatless Monday event. The menu will consist of all plant-based foods and desserts provided by local, Baltimore-based businesses, chefs and urban farmers including mock-meats, fruits, vegetables, grains, beverages, and a sample table featuring popular store bought items.

The mission of the evening is to expose people to the global Meatless Monday movement in a relaxed and entertaining environment where they can indulge in a meatless meal that not only will help to improve their health but will also renew their minds into a way of thinking about the planet and the animals.

"Our goal is for people to connect with their inner compassion, their soul, when eating and to understand the important decisions they are making when choosing the foods they eat," said Wright-Brown, Executive Director of BVSMD and host of the evening.

The principal of Northwestern, Saeed Hill, said, "I was exposed to this food late in life. I want my students to learn this early."

The program includes speakers from the board of the newly formed non-profit organization and organizers of the event, Black Vegetarian Society of Maryland, along with guest speakers from the Meatless Monday Organization, City Weeds, and the Humane Society of the United States. Live Entertainment will be provided by DJ 5Starr and students of Northwestern High School. Featured performance by local artist and soulful songstress, Mova Kween.

This event is a fundraiser for the Black Vegetarian Society of Maryland. There is a $5 donation request per person. Proceeds will go towards funding the event and future Musical Meatless Monday events. Donations are tax deductible. RSVP: bit.ly/MeatlessMondayMay

Sponsored by A Well-Fed World, City Weeds, Meatless Monday Organization, VegFund and Wegmans.