A discussion is held in Hong Kong, China on May 12, 2016, talking about whether Focusky or Prezi deserves the title of the best video presentation software, and arousing a heated debate.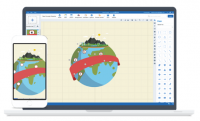 FOR IMMEDIATE RELEASE

It is said that Prezi is the pioneers in the industry of video presentation software. It makes the presentation a conversation. The originality and enlightening are belonging to Prezi. Then, Focusky, the up and coming star is arising. It is not the copy of Prezi; it's the improved video presentation software, making up for Prezi.

One of the advantages Prezi enjoys is the extremely simple manipulate page while Focusky's tends to be more detailed but easy-learning. Zoom effect is the main characteristic of Prezi, giving presenters a visual storytelling and conversational presenting presentation. In comparison with it, Focusky is much more than that. It brings presenters an animated video presentation with rich story.

Heated discussion is continuing. Some of the people believe that Prezi is more famous thus processes stronger technical support. However others think that it is Focusky that goes beyond Prezi for its breakthrough and innovations.

Focusky contains all the features of Prezi. Furthermore, Animation Editor and multiple Publish Types are the two breakthroughs in Focusky. How to make the objects move and keep them moving? The answer is in Focusky. There are 300+ Animation Effects applied in Animation Editor. It can animate the objects in presentation to visual effects. People can use animation to focus on the important points and to increase audience interest in presentation. Besides, users can custom the animation duration and delay time with ease. It is the animation effect that guarantees a stunning presentation.

With Prezi, users only can publish the project as PDF or Prezi file. Obviously, only two publish types cannot meet needs of most of people. But that's not the same on Focusky. The great attraction of using Focusky would be the powerful Publish function. There are flexible output formats in it including HTML, EXE, ZIP, APP, MP4 and PDF formats. So easy to publish and share the presentation in the appropriate way, catering for different needs.

Regardless of the discussion, different strokes for different folks, it is obviously wise to select the video presentation software according to the condition.
Anyone interested in this topic can explore more powerful features of Focusky from http://focusky.com/features.

About Focusky
Focusky gets everyone's approval and is said to be the easiest way to create stunning presentation and animated videos.