Amazon customers can't get enough of the new LED party lights by NuLights causing problems for the growing upstart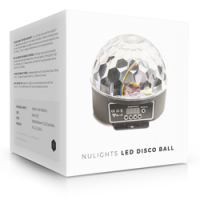 FOR IMMEDIATE RELEASE

After the release of the LED Disco Ball by NuLights early this year, excited customers rushed online to the Amazon marketplace to pick up their new party lights. Early customer response overwhelmingly positive and the product was described as 'Intricate', 'Lightweight' and 'Mesmerizing'. While most customers use the product for party lighting the LED Disco Ball has as been said to be "perfect for sleepovers, parties, weddings, Dj's, at a bar, or just for kids wanting to dance around the living room with some fun lights". As the word caught on about the party lights, NuLights saw some serious growth in sales partially due to students celebrating orientation.

"Sales have been very strong over the past few weeks," explained NuLights Director George Gray in a statement, "Despite all our projections we've truly been blown away by the demand for our LED Disco Ball". George went on to explain that the incredible market demand for the party lights has simply stripped them from all their available stock. "It truly upsets us to not have our product available to new customers right now, but this will only be temporary as much more stock is on the way" continued George. With customers clearly enjoying the LED Disco Ball and with NuLights promising a satisfaction guarantee beyond the typical 30 day Amazon refund policy it's likely that the party lights will continue their explosive sales growth once it becomes available once again for Amazon customers.

When questioned about when the product will be available again on Amazon George stated "We cannot put an exact date on it but I can promise it will be in stock within the week". True to his word the product is now back in stock on Amazon and orders for the party lights are now being accepted through the NuLights product listing here.