Internet phone service provider ITP VoIP is currently promoting its internet phone service as a solution for increasing employee productivity and happiness.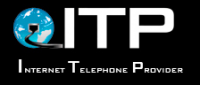 FOR IMMEDIATE RELEASE / PRURGENT

VoIP phone service provider ITP VoIP is reaching out to company owners and office managers to underscore how VoIP service can provide workplace flexibility and, in so doing, increase employee productivity and satisfaction. Available online at http://www.ITPVoIP.com, the companyís internet phone service can be accessed from any computer and even from mobile phones, providing employees with the ability to answer important phone calls when in the office or on-the-go.

Internet phone service provides employees with remote access to office phone systems, making it ideal for those who work from home but are still required to take calls from clients or conference with coworkers. Additionally, ITP VoIP offers free call forwarding with its VoIP phone plans. This feature makes it simple and affordable for businesses to forward phone calls to workersí phones, which allows them to stay in touch even when out of the office.

ITP VoIP also recently launched a free mobile app that provides VoIP phone service on mobile phones. The app can be used with any of the ITP VoIPís phone service plans, and allows customers to take business calls at the companyís usual low rates. Instead of paying their personal phone service providersí hefty sums, employees can simply utilize the ITP VoIP app for all of their business calling needs.

The ITP VoIP app is also an excellent solution for employers who require that their employees remain accessible while still allowing them time at home to recharge. With the mobile internet phone service app, employees can connect to the companyís internal infrastructure from anywhere. VoIP phone service is also an affordable solution, with ITP VoIP offering unlimited minutes starting at just under $20 a month.

The phone service provider also offers a convenient softphone feature, which can be added to any plan for just under $10. The softphone allows users to install a virtual phone on their laptops or PCs, and is ideal for those who travel frequently, as it allows them to stay connected to the office and conduct business while on the road.

ITP VoIP also offers an array of VoIP services that are well-suited for businesses, including hold music, call forwarding, call recording, voicemail, and VIP ring. All of ITP VoIPís features can be added and removed through a simple online account management system, which allows businesses to try different services on a month-to-month basis in order to best tailor the phone service to their needs.

To find out more about the internet phone service ITP VoIP offers, visit the company on the web at http://www.ITPVoIP.com or call 888-487-1110. ITP VoIP can be liked on Facebook at http://www.facebook.com/ITPVoIP or followed on Twitter at http://twitter.com/ITPVoIP, and it keeps a phone service blog at http://www.ITPVoIP.com/blog.