Support Sock Shop is featuring its line of Jobst support socks as ideal for frequent travelers who fly, sit, or stand for long periods of time.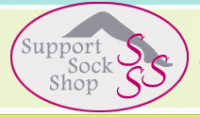 FOR IMMEDIATE RELEASE / PRURGENT

Support Sock Shop, available online at http://www.SupportSockShop.com, is currently highlighting its collection of Jobst socks. The compression footwear the company offers helps promote overall leg health and is ideal for frequent travelers who are often sitting for long periods of time.

Studies indicate that those who are consistently immobile for many hours may be more likely to suffer from leg problems such as poor circulation and Deep Vein Thrombosis (DVT). Good overall leg health is a combination of many factors, including constant movement, and travelers who may be sitting in a car or flying for extended periods of time are likely to suffer from a lack of mobility. For those who do not meet the minimum activity requirements suggested by doctors, Jobst stockings can help contribute to overall leg health by minimizing muscle aches, swelling, and fatigue, and improving the internal function of the veins.

People who travel often may be at risk for a DVT, a blood clot that forms in larger veins and typically occurs in the legs. This clot may dislodge from the vein wall and move through the venous system, which could lead to a blockage in the heart, brain, or lungs. Graduated compression socks, such as the line of Jobst stockings Support Sock Shop sells, exert a comfortable amount of pressure on the outside of the leg to support the veins and vein valves, which can help keep legs healthy during long periods of inactivity.

For women, Support Sock Shop offers Jobst Relief Pantyhose. These Jobst stockings feature accurate gradient compression therapy to provide relief and they also have 3D knit structure that use air-covered spandex yarn for a soft feel and all day comfort. Businesswomen who purchase the stockings now can obtain them for only $57.32, a savings of $24.56 off Support Sock Shop's list price of $81.88.

Women who are looking for a shorter option may be interested in the UltraSheer Compression Support Knee High socks the company offers. These Jobst support socks are open toed and are knit with a blend of uncovered spandex inlay yarns for high stretch capabilities along with compression. Customers can purchase the footwear in black, honey, natural, and sun bronze; Support Sock Shop has these items on sale for only $63.98, a savings of $16 off its list price of $79.98.

The Jobst stockings retailer also houses a variety of compression socks for men who travel frequently. The Jobst for Men Knee High sock has a classic ribbed design, but also delivers gradient compression therapy. This pair is available in five different colors including black, brown, khaki, navy, and white and the socks employ microfiber nylon yarn to wick away moisture faster and to keep feet dryer and cooler. Customers can purchase these socks for only $37.23, a savings of $9.31 off the list price of $46.54.

To learn more about Support Sock Shop's selection of Jobst stockings and knee highs visit the company's website at http://www.SupportSockShop.com or speak to one of its certified sock fitters at 877-330-5900. Support Sock Shop is also available on Facebook and Twitter at http://www.facebook.com/SupportSockShop and http://twitter.com/SupportSockShop, respectively and it makes regular blog updates to its compression footwear blog at http://www.SupportSockShopBlog.com.