Disposable Medical Express, an online retailer that offers reduced price disposable underwear, is currently showcasing its newly expanded collection of overnight diapers.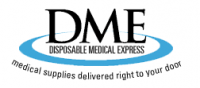 FOR IMMEDIATE RELEASE / PRURGENT

Disposable Medical Express, available online at http://www.DisposableMedicalExpress.com, recently expanded its collection of overnight diapers to include a wider array of discounted, name brand disposable underwear. Disposable Medical Express strives to deliver affordable incontinence supplies to customers while maintaining the utmost discretion.

"Disposable Medical Express's goal, from price to purchase, is to ensure the comfort of our customers. Buying incontinence supplies in person can be uncomfortable for individuals. Therefore, we provide shoppers with the option of ordering disposable briefs or overnight diapers online, from the privacy of their own homes, which will then be delivered directly to their residences. Moreover, we allow customers to purchase a single pair of any brand's disposable underwear so they can test the product for fit and absorbency before purchasing it in bulk," said Josh Davies, CEO of Disposable Medical Express.

One of the most popular overnight diapers available from Disposable Medical Express is the EuroBrief by MediPrime Overnight. The underwear has received a four out of five stars rating on the company's website and is available in medium, large, and extra-large sizes. It features an absorbent capacity of 93.3 ounces; one pair can keep its user dry for a full night. The underwear also has four tapes, as opposed to traditional pull on styles, to make it easier for caregivers to change their patients. A pack of 20 starts at just $34.95.

Tranquility Premium Overnight Protective Underwear is one of the best rated overnight diapers on Disposable Medical Express's website, having received an average rating of 4.5 out of 5 stars from close to 100 customers. Tranquility's absorbent Peach Mat wicks away moisture, reduces odor, neutralize urine, and inhibits bacterial growth. The disposable underwear has a full-rise waist panel for improved fit and a simple, pull-on design; the product is available in five sizes. Small and extra-small sizes can absorb up to 20.3 ounces whereas medium, large, and extra-large all have a maximum capacity of 34 ounces. Customers can purchase a single pair of disposable briefs for 95 cents. Discounted bulk packages are available starting at the reduced price of $22.95.

In addition to overnight diapers, Disposable Medical Express has a variety of incontinence supplies, including bathroom safety products, plastic gloves, and personal wipes. The company's website also offers other pharmaceutical goods typically required by the elderly, such as seat lifts, mobility aids, bedroom accessories, and Scandishake nutritional supplements. As a further incentive, any type of order that surpasses $25 is entitled to free shipping.

To order overnight diapers from Disposable Medical Express or to view the company's full line of disposable underwear, visit its website at http://www.DisposableMedicalExpress.com or call 800-592-2848. The retailer is available on Facebook and Twitter at http://www.facebook.com/DisposableMedicalExpress and http://twitter.com/DisposableMedic, respectively. The company also maintains a blog at http://www.DME123Blog.com.