National Property buying company has have improved it's business model to make a speedier process.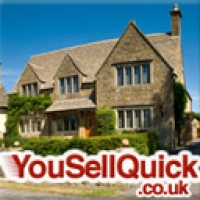 FOR IMMEDIATE RELEASE / PRURGENT

You sell quick who provide a quick house sale solution throughout the UK are now able to speed up their process of completion for house sellers in the north of the country. Previously, a slow legal system within Scotland meant that a fast sale was delayed. Now, due to co-operation from a major lender completions can happen more quickly than ever before.

Home owners throughout the UK are still using the services of on-line house buyers to try and move on quickly with their lives. You Sell Quick were established in 2010 to provide a service that greatly helps motivated sellers who are asking how can I sell my house quickly. The over cautious banks have created an environment where would be buyers are unable to attain finance and therefore sellers are unable to sell their property. The company largely uses mortgage funding to make purchases and delays within the bank lending system as meant that the quick sale service could not work efficiently within Scotland. One main part of the Scottish has now been put to an advantage.

Typically the company can complete within six weeks throughout the UK but for Scotland this has been a different story. Emma Greenacre say's "The backlog of administration that the lenders have, has caused unnecessary delays. The time it can take to get a valuation from a RICS surveyor can often be a four week wait. This new arrangement of using home reports instead of a surveyor completely eliminates that delay".

It is a legal requirement for a home report to be conducted before a property can be listed for sale. Rather than waiting weeks for a surveyor to visit due to a back log of appointments the company can no bypass this and use the valuation and condition documents that were originally used at the home report.

One of the major buy to let mortgage lenders has gradually implemented a system that allows them to make a formal offer in granting finance on Home reports that are conducted by recognised surveyors The home report must have been carried out within three months or another would have to be carried out which often costs £400. However, this cost is off set as the buyer will receive less costs passed on from the lender. In the case of using a service like You Sell Quick, they cover all solicitors fees and costs for both buyer and seller, which is commonly standard practice across the industry.

The company now expects to fully complete on transactions across Scotland within six weeks. This not only leaves a happier customer but allows sellers who have a urgent need to move within that time frame to achieve the sale that they desire. With a quick turnaround around time throughout the country the company now expects to increase its number of transactions from being able to make more offers whereby the time to completion is able to provide a solution for those who need to move particularly fast. A large majority of sellers who approach the on-line house buyers are motivated due to relocating, moving abroad or often facing repossession. This new development can really help Scottish sellers to achieve a fast sale.