Plastic and Reconstructive Surgeon Dr. Stefan Szczerba of Rosemont, IL has been named a Patients' Choice Award Winner for 2012.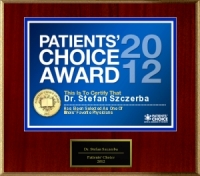 FOR IMMEDIATE RELEASE / PRURGENT

The award was based upon reviews submitted by patients across the U.S. who provide online feedback about their experiences. They provide overall opinions and rate various components of care, such as bedside manner, doctor-patient face time, degree of follow-up, and courtesy of office staff.

While doctors generally receive positive reviews from their patients, only a select few uniformly receive rave reviews worthy of a Patientsí Choice acknowledgement. In fact, of the nation's 830,000 active doctors, only 5% were accorded this honor by their patients in 2012.

Congratulations to Dr. Stefan Szczerba, both for receiving such positive feedback from his patients, and for being awarded the Patients' Choice Award.