A new Zpryme report, APEC Tariffs & Renewables, explores the recently reached historic tariff reduction agreement APEC finalized on renewable energy.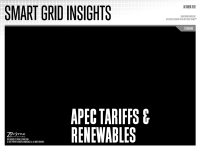 FOR IMMEDIATE RELEASE / PRURGENT


Austin, TX - (Zpryme) – 10/13/12 – A new Zpryme (www.zpryme.com) report, APEC Tariffs & Renewables, released today explores the recently reached historic tariff reduction agreement that The Asia-Pacific Economic Cooperation (APEC) finalized on renewable energy. Tariffs between APEC member states will be reduced to 5% or lower by the end of 2015 on listed renewable energy items. The complete list of 54 items (available here) were listed for inclusion, all of which will benefit APEC members and have a positive effect on both their sustainable energy goals and their economies.

Download the Zpryme report, APEC Tariffs & Renewables, at: www.smartgridresearch.org

"Firms that have established themselves in the APEC region by 2015 when the tariffs are reduced will be best positioned to take advantage of the opportunities for growth," said Megan Dean, a Sr. Analyst at Zpryme. "This is an excellent time for vendors to form partnerships, participate in pilot projects, expand operations and invest in APEC countries' renewable energy markets."

Groups that will benefit from APEC tariff reductions:



Manufacturing: Benefit from the lowered tariffs because decreased costs result in increased sales. In addition, since the manufacturers have the ability to sell to all APEC nations, they have the ability to drastically increase their market penetration.


Retail: Since they have access to the entire APEC supply chain, they are able to purchase renewable energy products at a lower price. This, in turn, enables them to offer a larger variety of products to their end-users, with a corresponding lower price to them. The win-win results translate into higher profit margins for the vendors.


Consumers: When increased tariffs are imposed, consumers are forced to pay a higher price for renewable energy goods to cover the cost of the government fees produced by the tariff structure. This increases the price not only at the point-of-sale but throughout the entire value chain.



Attention MarComm Teams:

White paper sponsorship topic abstracts are now available for Q4 and 2013; email smart.grid@zpryme, subject-line "white paper sponsorship" to learn more.

About Zpryme Smart Grid Insights Practice:

Zpryme-powered Smart Grid Insight Practice (link) and Smart Grid Insights Advisory Board (link) help organizations understand their business environment, engage consumers, inspire innovation, and take action. These practices represent an evolution beyond traditional market research and consulting: combining sound fundamentals, innovative tools and methodologies, industry experience, and creative marketing savvy to supercharge clients' success. At Zpryme, we don't produce tables and charts; we deliver opportunity-focused, actionable insight that is both engaging and easy-to-digest. For more information, visit: www.zpryme.com.

About Zpryme Smart Grid Insights Publication:

Developed by Zpryme's Smart Grid (link) and Electric Vehicle (link) Insight practices, Smart Grid Insights at www.smartgridresearch.org was created to give companies authoritative actionable insight to succeed in the Smart Grid and EV ecosystem. Contact us to learn more about our custom market research and advisory today. If your business would like to sponsor a future Smart Grid Insights report that targets decision-makers across the Smart Grid value chain, then please feel free to contact us.

Zpryme Contact:

smart.grid@zpryme.com
+1 888.977.9631
www.zpryme.com
www.smartgridresearch.org (Zpryme Smart Grid Insights)

Follow Zpryme on: Twitter | Facebook | Linkedin