Four Sales, a company that conducts and presents estate sales in the Greater DC-Metro/Mid-Atlantic area, recently ranked number 2,735 on Inc. Magazine's annual 5,000 list of the fastest growing companies in America. The company also ranked number 114 for fastest growing company in retail sales.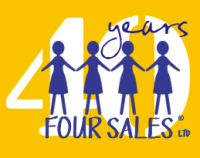 FOR IMMEDIATE RELEASE / PRURGENT

Four Sales, an estate sales specialist for the past four decades, ranks number 2,735 on the 2012 Inc. Magazine list of the 5,000 fastest growing companies in America. Available online at http://www.FourSales.com, the Washington DC estate sales company was founded in 1972 and serves the Capitol's surrounding areas by conducting and presenting estate sales.

"I am honored and humbled to have my company recognized by Inc. Magazine. The timing could not be better, since we are celebrating our 40th year in business. One of the amazing aspects of being featured on the list is that Four Sales is neither a 'tech' company, nor a young company. Given the aging population base and our unique approach, our outlook for the future is optimistic. We look forward to continued growth by striving to provide the highest quality of services for our industry," said Four Sales President and CEO Daniel Sanders.

Headquartered in Alexandria, VA, the estate sale company additionally offers auction brokerage services, consignment sales, live collectibles auctions, and personal property and jewelry appraisals. Daniel Sanders, President and CEO, maintains the day-to-day operations of the company, and works to improve sales, operations, marketing, and brand management.

For more information about Four Sales, contact Daniel Sanders at 703-256-8300 or Estate
FourSales.com. To learn more about Washington DC estate sales, visit http://www.FourSales.com. Four Sales can also be found on Facebook and Twitter at http://www.facebook.com/FourSales and http://twitter.com/FourSales.