Monsey Tours, a New York charter bus company, is boosting its social media presence to connect with its national client base.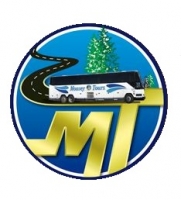 FOR IMMEDIATE RELEASE / PRURGENT

Monsey Tours, New York's premier charter bus service for the past 40 years, is highlighting its new presence on various social networks. The charter bus company is available at http://www.MonseyBus.com and has expanded its internet presence to include profiles on Facebook and Twitter. Customers can now interact with the New York charter bus provider by commenting, posting questions, and learning about special savings.

"At Monsey Tours, we know that the online landscape is changing, and often the best way to communicate with customers is through social media channels. We want to be able to connect with our client base to ensure that we are providing the best charter bus services possible. Customers who prefer to interact through Facebook and Twitter can now reach out to us in a fun environment where they can learn about our charter bus company and provide important feedback on our services," said Chaim Lunger, CEO of Monsey Tours.

On Facebook, Monsey Tours utilizes the new Timeline interface to share photos and ideas for places future charter bus passengers can explore on their travels. The company's profile, which is currently followed by over 4,200 devoted fans, updates its profile daily with pictures depicting roller coasters, museums, concerts, hiking trips, and other ideas for fun adventures. The New York charter bus company also provides helpful information for customers, including a photo of daily bus routes. Facebook Fans of the bus company are also able to participate in exclusive Facebook contests, such as one recent giveaway, which provided the winner with a complementary booklet of 10 free charter bus tickets.

On Twitter, Monsey Tours interacts with over 470 followers by asking questions like, "What type of music do you like to listen to on long trips?" The bus service provider also shares ideas for making road trips more fun, like round-ups of the best games to play on a long car ride. The charter bus service also shares informative links with its Twitter followers including, daily bus schedules.

Aside from the company's devotion to its online community, it also helps the community at large by maintaining long-term service contracts with the NYC Board of Education, the NYC Administration for Children's Services, and the NYS Office of Parks and Recreation. The New York charter bus company also offers a wide variety of charter bus options, including daily lines for commuters, leisurely trips to casinos, travel for athletic teams, cross country transportation, transport to and from the airport, and bus services for family reunions.

To learn more about the New York charter bus company, visit http://www.MonseyBus.com or call 718-623-9000. Customers can also interact with Monsey Tours on Facebook at http://www.facebook.com/MonseyBus and on Twitter at http://twitter.com/MonseyBus. The company also maintains a blog related to charter bus companies at http://www.MonseyBus.com/blog.