Construction site hoardings are the latest offering from Just Displays, a print and design company in London. The digitally-printed advertising hoardings are high resolution and hard-wearing, and are ideal for promoting businesses or building developments.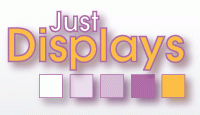 FOR IMMEDIATE RELEASE

Starting with a site survey and a digital style template, Just Displays take businesses from the process of design to a top quality, large format advertising hoarding. These cost-effective displays are also graffiti-proof, thanks to a resistant coating, and are printed in full-colour.

Just Displays' hoardings are made from a tough, but lightweight, Diabond display material and are printed using state of the art Latex print technology. The company are proud that the hoarding displays will look as good at the end of the construction project as they did at the start, thanks to the durable materials as well as printing the designs with a fade-resistant, UV-stable ink. This means that the quality and appearance of the advertising hoarding will not be compromised, no matter the location or surroundings it is situated in.

Any size hoarding between 3m in height and 1.5m width can be catered for, and they are suitable for both outdoor and indoor use.

As a way to promote a business, hoardings from Just Displays are ideal because they are easily visible, clearly printed and top quality.

A price match promise from Just Displays, offering to meet any competitor's pricing, means that they are great value for any business. Further information about Just Displays can be found at http://www.justdisplays.co.uk/ProductsListing/SiteHoarding. To discuss your own needs with the company or to get a competitive quote, call them on 0208 805 1333 or email gag
justdisplays.co.uk.