Double Header USA, an exclusive online clothing and accessory retailer, is expanding its fashion line to include head scarves and other hair coverings.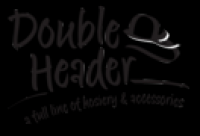 FOR IMMEDIATE RELEASE / PRURGENT

Double Header USA, a specialist retailer available online at http://www.DoubleHeaderUSA.com, is presenting female shoppers with an expanded line of snoods and pre-tied head scarves ideal for the warm summer months. The line features a variety of colors and customized designs that make for stylish complements to any wardrobe.

"Double Header USA takes pride in presenting our discerning customers with a plethora of elegant products. Our snoods and pre-tied head scarves in particular are as utilitarian as they are chic. Women can wear them for fun, as a form of religious observance, or when undergoing a period of health recovery. No matter the reason, we strive to keep shoppers looking their best while offering some of the lowest prices around," said Akiva Gruber, Double Header USA's CEO.

Traditional snoods are usually made with netting or plain cloth. Double Header USA takes the accessory to the next level by producing and featuring designs constructed from innovative and eye-catching materials. The Betmar New York Crotched Beret Snood With Sequins is one example, and is ideal for a concert or fancy evening out. The hair covering features glittering silver, gold, or black sequins woven into a mesh-lined cap, and is priced at just $36. If a customer buys two, the order is also eligible for free shipping.

Another snood well-suited for a night out is the Uptown Girl Knot Snood Lace Look-Alike. The head scarf is priced at $14.99, and is made from 16-inch long, comfortable Lycra. It showcases faux-lace detailing around the crown, and is available in charcoal gray.
Pre-tied head scarves are extremely wearable because they stretch tightly around the base of wearers' heads. Unlike regular knotted head scarves, they do not require constant adjusting and are perfect for women on-the-go. The Double Header USA Four Flower Applique Pre-Tied Bandanna is a classic hair covering studded with four-pointed flower appliques, and is now priced at $14.99. The head scarf comes in black, gray, navy and brown, and also qualifies for free ground shipping.

The Etties Collection Summer Flowers Pre-Tied Bandanna is another attractive option for shoppers. The bohemian, pre-tied bandanna is beach-ready with its white backing complemented by black piping, ripple-cut bow tails, and a retro yellow marigold print. Priced at $11.99, this head scarf is additionally eligible for free ground shipping.

Besides head scarves, Double Header USA sells jewelry, clothing and hosiery by top brands such as DKNY, Ralph Lauren and HUE. Wholesale bulk orders are available for buyers interested in reselling Double Header merchandise within their stores.

To shop Double Header USA's Deal of the Day or explore its full head scarf, snood, pre-tied bandana, beret, Israeli Tichel and Mitpachat inventory, visit the company on the web at http://www.DoubleHeaderUSA.com or call (718) 374 5425. The hair coverings retailer can also be liked on Facebook at http://www.facebook.com/DoubleHeaderUSAcom or followed on Twitter at http://twitter.com/DoubleHeaderUSA.