U.S. Department of Humor, a family friendly online comedy site, is posting twice daily viral videos: one with an uproarious joke and one depicting an amazing event.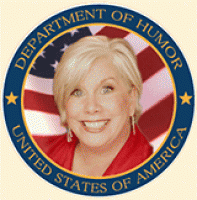 FOR IMMEDIATE RELEASE / PRURGENT

U.S. Department of Humor, a recently launched web-based TV channel, is promoting its viral videos intended for comedy fans of all ages. Award-winning comedienne Nancy Witter hosts the U.S. Department of Humor's daily doses of funny and amazing content, viewable now at http://www.USDOH.tv.

"Many comedy videos that are circulating around the web are not appropriate for younger viewers. As a mom, I always worried that my kids would encounter inappropriate material while searching for funny content. That's why I helped create the U.S. Department of Humor; I wanted to showcase content that could provide laughs and depict gasp-worthy events for audiences of all ages. Parents can chuckle alongside their children and be assured that if they step away from the computer screen, the jokes delivered will still be tasteful in their absence," said Nancy Witter, Founder of U.S. Department of Humor and self-appointed Secretary of Humor.

Ritter got her start in comedy doing professional stand-up. She was one of five finalists in "Nick at Nite's Search for the Funniest Mom in America." After wrapping up the contest, Ritter went on to partner with two other "Funny Moms" and toured for five years, selling out theaters across the country with the group's smash hit, "Mama's Night Out." Since then, Ritter has settled down in her native New York, putting aside time to serve as an attentive Secretary of Humor.

Besides offering tasteful humor, Ritter also hopes that USDOH's videos will cheer up Americans during a time of economic uncertainty. The fictional backstory of how the U.S. Department of Humor was developed can be found on its website's About page and follows as such: "President Obama formed a new cabinet post, the U.S. Department of Humor. It was made to counter the feelings of despair, discouragement, and overall disillusionment around the country." USDOH firmly believes that, even in trying times, a hilarious video can go a long way towards improving viewers' outlooks.

New and old fans alike will also appreciate the guest appearance famous Obama imitator Reggie Brown made on USDOH. Brown's intro video on U.S. Department of Humor's homepage explains the new 'Awe to Laugh Plan' – "a brilliant plan (that does not require) a doctor's prescription."

Ritter provides daily comedic commentary on the site's featured videos, which are hand-screened to be both family friendly and entertaining. During the recent July 15th daily video, Ritter told a luggage-themed joke about misplaced checked bags. Then, viewers were treated to a practical joke in which unsuspecting cab drivers are asked to load suitcases that have been screwed into the sidewalk. Another video posted on July 17th tells the story of an Irish woman making funeral arrangements with a priest; the uproarious punch line involves her husband's last request. The corresponding caught-on-camera prank records a loud man reading a newspaper to the annoyed reactions of his tablemates.

For further information on U.S. Department of Humor, call (212) 726-2068 or tune in to watch daily episodes at http://www.USDOH.tv. U.S. Department of Humor also maintains a Facebook profile at http://www.facebook.com/USDOH and a Twitter account at http://twitter.com/USDOH.