Hospitality industry retailer Shild Company has recently expanded its line of desk blotters, executive folders, leather coasters and desk pad holders designed for corporate events.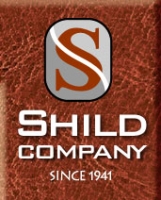 FOR IMMEDIATE RELEASE / PRURGENT

Shild Company, a hospitality goods supplier known for its leather menu covers, is expanding its line of conference and corporate products to include desk blotters, executive folders and desk pad holders. These products are ideal for convention center managers or hotel owners who frequently host conferences and meetings. The full line of corporate products is now available to shoppers at http://www.ShildCompany.com.

"At Shild Company, we believe in offering the very best hospitality products. With our expanded line of conference and corporate items, we are now able to give customers organizational holders that demonstrate the same quality as our menu covers, leather placemats and 6 ring binders. The beauty of adding new products to the mix is that it further enhances our presence within a space while promoting design continuity," said Raphael Halpert, Shild Company's CEO.

The newly extended line now features hospitality products that will protect desks and tables in conference rooms. It includes a leather desk blotter selection that offers a variety of classic surface coverings. A desk blotter not only helps protect hardwood or other delicate surfaces, but can also help keep them clean and organized. Shild Company also offers a selection of quality leather coasters to protect tables. Leather coasters are currently available in square and circular options.

Hotel owners and convention center managers may also want to offer their guests a leather notepad holder for convenient note-taking. The catalogue of pad holders at Shild Company provides a sturdy surface for note-taking and easily organizes an individual's pen and paper.
Customers who need a bigger organization portfolio for notepaper, pens, loose papers and business cards may be interested in the executive notepad holder section. These folders can be used in business meetings and at conferences to easily consolidate meeting agendas. The folders allow attendees to take notes, keep business cards or have promotional material on hand as well.

At the end of a meet-up, clients are sometimes welcome to take home conference supplies as a complimentary gift. Shild Company permits the name of one's company to be circulated even further by customizing these re-usable items. "All of our corporate and conference products are completely customizable. Customers can modify the dimensions, style, and color or have their logos added. Our quality leather coasters, desk blotters, and notepads make a bold statement that is sure to impress clients as well as add style and class to any meeting," said Halpert.

To view the organization's full array of corporate and conference products, visit its website at http://www.ShildCompany.com or call 914-963-9401.The bindery company can also be found on Facebook at http://www.facebook.com/ShildCompany or on Twitter at http://twitter.com/ShildCompany. Shild Company also actively blogs about the hospitality industry at http://www.ShildCompanyBlog.com.