Freight shipper Prompt Logistics is currently emphasizing its low freight rates on both FTL and LTL shipping.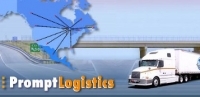 FOR IMMEDIATE RELEASE / PRURGENT

Prompt Logistics, a freight shipper available online at http://www.PromptLogistics.com, is now offering its competitive freight rates on both full truckload and less than truckload shipping options. For companies searching for budget-friendly shipping solutions for their products, Prompt Logistics offers both flexibility and accessible price points; additionally, its online freight calculator provides customers with free and instant quotes on any shipments.

"Prompt Logistics has worked as a premium freight shipper for more than 20 years. Over time, we have added a number of different services and features to benefit our customers. Our freight calculator, for instance, allows customers to quickly procure a freight cost estimate on their shipments, and we also offer over 30,000 square feet of warehousing space. We ship to Canada and across the United States, including Hawaii and Alaska, and we now offer both full truckload and less than truckload shipping," said Jack Williams, Client Relations Manager of the freight shippers Prompt Logistics.

Full truckload (FTL) shipments are ideal for businesses looking to fill an entire truck with their products; once the cargo truck has been fully loaded, it will be driven directly to the customer's chosen destination. Freight rates per pound and distance are very low during FTL transport, and it offers the added benefit of security, as the items stay on one truck instead of being moved from freight shipper to freight shipper.

While FTL shipping offers many benefits, customers who wish to ship only a limited number of products can end up vastly overpaying if they use FTL transportation methods. For this reason, Prompt Logistics offers both FTL and less than truckload (LTL) shipment options. Those businesses who don't require a full truckload for their shipments can instead access Prompt Logistics' low freight rates on LTL transportation. Meanwhile, those who are uncertain whether a FTL or LTL freight shipper will give them a better rate can use Prompt Logistics' online freight calculator to easily determine the freight rates for both methods.

Prompt Logistics' LTL transportation options are ideal for those seeking to ship larger packages than the typical parcel company is equipped to handle. The freight shippers combine products from a number of different companies into a single truck and then drive it to a sorting station. From there, the items are sent to their final destinations. LTL shipping offers a particularly economical option for companies who are looking to transport only limited order quantities at a time.

To find out more about Prompt Logistics or to receive a freight quote, visit the company on the web at http://www.PromptLogistics.com or call 888-99-PROMPT (888-997-7667). The freight shippers can also be found on Facebook and Twitter at http://www.facebook.com/PromptLogistics and http://twitter.com/PromptLogistics, and it keeps a freight shipper blog at http://www.PromptLogisticsBlog.com.