Support Sock Shop is now offering an expanded line of compression pantyhose and socks specifically for those who suffer from diabetes.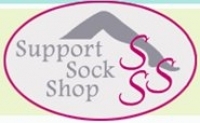 FOR IMMEDIATE RELEASE

Support Sock Shop, a compression pantyhose and maternity support belt retailer that also offers compression socks and support products to alleviate a variety of health conditions, is announcing an expansion to is products targeted to diabetics. The items in the collection include a variety of discounted menís and womenís Jobst support socks for all occasions, and can be found online at http://www.SupportSockShop.com.

Compression footwear like Jobst stockings and socks can help people who suffer from diabetes and a variety of other ailments. Compression pantyhose and socks from Jobst work to improve circulation and prevent or reduce swelling and discomfort in the legs. They can also provide support and moisture control to contribute to better overall foot health.

For customers with any sort of circulatory ailment, including diabetes, Support Sock Shop offers a number of Jobst support socks styles and options. The Jobst knee high compression sock, for example, is lightweight, soft, and made in a contemporary style that can be worn to work, social gatherings or for leisure activities.

For women who prefer compression pantyhose, Support Sock Shop offers Jobstís UltraSheer Compression Stockings, which are made with fine, silky yarns for a sheer look and increased comfort. The compression pantyhose also offer gradient compression that is greatest at the ankle and decreases further up the leg, which improves circulation by providing light counter pressure. Jobstís compression pantyhose can be worn for all occasions, from the office to elegant dinner parties, and come in a variety of neutral colors to complement any skin tone.

Support Sock Shop also offers a wide variety of Jobst support socks for men. Included in its line of menís Jobst socks are ribbed knee highs that are ideal for everyday wear. These socks are made from durable Lycra and Tactel yarns for a soft and optimal fit, and the top band of the stocking is designed to prevent any sort of constriction or sagging. For dressier occasions, men can also buy the Jobst Dress Knee Sock, a supportive footwear option that is designed to be worn with business apparel. These Jobst support socks are lightweight, ribbed and made from soft yarns for a comfortable fit.

Customers who are looking for athletic styles and fits can choose the Jobst Sport Sock, which is a high performance compression sock designed for active lifestyles. These unisex Jobst socks are made from a nylon and acrylic blend to guard against moisture and keep feet dry and comfortable.

In addition to Jobst support socks, Support Sock Shop also sells compression pantyhose from a number of other companies. It offers menís support socks from Truform, CEP, Medi, Sigvaris and Juzo. Womenís support hosiery is available from all of the above companies as well as from Bauerfeind and Solidea.

To learn more about Support Sock Shopís selection of Jobst support socks, compression pantyhose, and pregnancy belts, find the company online at http://www.SupportSockShop.com. Orders can be made through the companyís website or by calling 1-877-330-5900. Support Sock Shop is also available on Facebook and Twitter at http://www.facebook.com/SupportSockShop and http://twitter.com/SupportSockShop.