Support Sock Shop is now offering a wide array of compression sportswear, in addition to its selection of Jobst stockings, pregnancy belts, and compression pantyhose.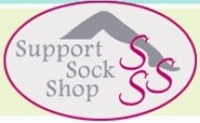 FOR IMMEDIATE RELEASE

Support Sock Shop, an online retailer known for its selection of compression pantyhose and maternity girdles, has recently expanded its inventory to include a variety of compression sportswear options. Customers can view all of Support Sock Shopís compression products at http://www.SupportSockShop.com.

The company, which specializes in pregnancy belts and other maternity items, is now offering compression shorts, knee braces, and skinsuits for athletes. It also features a number of below-the-knee options, including athletic compression socks, ankle braces, Achilles braces, and calf sleeves. All Support Sock Shopís compression sportswear is on sale and customers can save as much as $20 on a single item.

For triathlon and competition runners, the Jobst socks retailer offers the CEP Crompression Skinsuit. The womenís skinsuit can be purchased in black, blue, red or pink, and comes in five different sizes. The menís CEP Triathlon Compression Skinsuit comes in black, blue, green, red or white, and is also available in five sizes. Both products are available for $179.96, a 10% saving off the manufacturerís list prices of $199.95.

In addition, competitive runners can benefit from the discounts Support Sock Shop offers on compression socks. The latest deal features CEP socks, comparable to Jobst support socks; they offer a superior fit and excellent support for runners and endurance athletes. The menís and womenís CEP compression socks from Support Sock Shop can be purchased with either a classic or progressive design. The CEP Running Compression Socks are $53.96 a pair, making for a savings of $5.99 off the list price of $59.95.

For individuals with knee injuries, Support Sock Shop offers several options beyond Jobst socks. One option is the CEP Rx Knee Support, which features two-way stretch reinforcement and is designed to provide lightweight support for swollen and sore knees. The CEP Rx Knee Support also helps relieve osteoarthritis or post-operative pain, and when purchased from Support Sock Shop, costs only $32.36 instead of $35.95.

The compression pantyhose company is also currently discounting the CEP Rx Knee Brace. Available for $6.99 off the retail price of $69.95, the brace costs $62.96 and offers a 3D anatomical fit for guaranteed comfort. The knee brace has been proven to speed recovery time from injuries like Runnerís Knee and Chondromalacia.

In addition to its selection of compression sportswear items, Support Sock Shop also offers many other support and compression options. The companyís website features Jobspt support socks, Jobst stockings, compression pantyhose, and pregnancy belts, all at discounted prices, as the company is dedicated to offering comfortable and supportive stockings for every stage of life.

As part of its dedication to comfort and convenience, the Support Sock Shop website offers a comprehensive fit guide for all of its products. For Jobst support socks and Jobst stockings, the website also features separate fit guides to ensure a perfect fit for every purchase.

To purchase Jobst stockings, compression pantyhose, or pregnancy belts from Support Sock Shop, visit its website at http://www.SupportSockShop.com or call 718-436-7880. The company can be found on Facebook at http://www.facebook.com/SupportSockShop or on Twitter at http://twitter.com/SupportSockShop, and its maternity girdle blog can be found at http://www.SupportSockShopBlog.com.