Ribbon cutting ceremony Wednesday afternoon opens week-long gaming event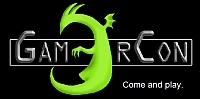 FOR IMMEDIATE RELEASE / PRURGENT

San Diego, CA – July 10th, 2012 Gam3rCon, the first local event celebrating the world of video games and interactive entertainment, kicks off this Wednesday when San Diego Councilman Todd Gloria stops by to recognize Gam3rCon as an official event in the East Village of downtown San Diego.

Mr. Gloria will be at the event at 6pm to tour the venue and cut the ribbon. "I'm honored to be attending the third annual Gam3rCon, a homegrown San Diego event focused exclusively on gamer culture, offering a space for role playing, computer, and console gamers," Mr. Gloria said. "It is very exciting to be a part of this event, which gives the over 120,000 Comic-Con attendees, as well as all those unable to attend, a place to experience, share, and geek out on what they love most about games."

With floors plus a rooftop of gaming entertainment, Gam3rCon is THE place to play for gamers, geeks, and gaming industry members during the week of Comic Con International. Activities include:

• Coleman University Video Game Arena- free play and tournaments for cash and prizes, featuring Street Fighter IV, Halo Reach, Call of Duty MW3, League of Legends, and more.
• Live Theatre- geek-inspired productions "GAM3RS: The Play," "I Wish My Life Were an RPG," and "Spider Baby, the Musical,".
• USAopoly Tabletop Gaming Lounge- the latest in tabletop, dice and card games.
• Panels- gaming industry professionals share their knowledge with attendees.
• Gaming Art Exhibition- curated by local artist collective 8-Bit Cubist.
• Top of the 10th- Rooftop parties nightly, including: Comedy Night with Andre Meadows, Video Game High School meet and greet, live Filk music with Eben Brooks, Allison Lonsdale, and Mark Kramer, and a Telestrations gaming happy hour, plus food, drinks, and an amazing view of the San Diego skyline.

Joining Title Sponsors Coleman University and USAopoly are several new programming partners, including the UCSD Winter Gamefest, myNerdRage.com, 760 LANS, LanDiego.com, Horrible Imaginings, and Wiggity Bang Games. Product and prize support is provided by WowWee Games, MadCatz, Papa John's, Mek-Fu, ONE Coconut Water, popchips, and Gamer Grub.

Open July 11-15 from noon to midnight, Gam3rCon is an all-ages event celebrating the earliest traditions of dice and cards to the latest innovations in digital gaming experiences. One day passes are $10 and week-long passes are $30 (available online). For more information, please visit www.Gam3rCon.com.