Visit Brighton this month and you'll find a city full of life. The programmes for the city's May festivals have blossomed this year with outstanding line-ups for a broad spectrum of tastes.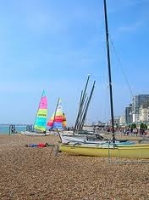 FOR IMMEDIATE RELEASE

To participate in the festivities, city-centre-based boutique hotel the Oriental is offering reductions on midweek stays of over two nights, giving guests the chance to experience a slice of Brighton's famous festival scene.

The Brighton Festival runs from 3 to 27 May in 2012, and this year the guest director is esteemed actress Vanessa Redgrave CBE. Redgrave's eclectic programme of events includes a lecture from writer and broadcaster Alain de Botton, a family-friendly Graphic Novel Workshop, and a ground-breaking Book Slam featuring novelist Jon McGregor.

Famous for its winding lanes and tree-lined streets, one of the delights of visiting Brighton during the festival is stumbling upon events at venues you've never visited before. The Artists Open Houses, in which communities of local artists and craftspeople create exhibitions in their homes, grace almost every street during May. The Oriental's own history draws on this arty atmosphere.

Housed in a Regency townhouse, Brighton guest house the Oriental was not always a boutique hotel. The former home of the Brighton Belle nightclub, a popular nightspot for musicians and artists, the hotel offers year-round exhibitions featuring painting and jewellery by contemporary artists as a reminder of this heritage.

Brighton's thriving live music scene draws music lovers throughout the year, and the Oriental provides a warm welcome to those looking to dance the night away. The Great Escape festival of new music is held in the city from 10 to 12 May. The festival is notorious for being the place in which to spot the next big thing, and a three-day weekend ticket gives access to 300 bands playing at 30 venues.

About the Oriental

Just moments from Brighton's seafront and other landmarks, guests staying at the Oriental are treated to a unique experience. The hotel is recommended in the Guardian, Lonely Planet and The World's Best City Hotels for £100 or less and often runs deals for seasonal stays. Accommodation offers in Brighton are worth booking up quickly, as the city is a hugely popular place to visit.