Londoners looking to enjoy a holiday home swap are rapidly increasing in number thanks to the capitalís hosting of the 2012 Olympics this summer.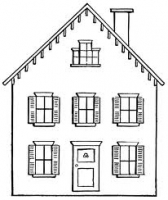 FOR IMMEDIATE RELEASE / PRURGENT

With more international interest than ever before in securing a holiday home in London, and more and more Londoners wondering whether the prospect of more traffic and crowds during the Olympics is really what they want, premium holiday home exchange site LoveHomeSwap.com has reported a 500% increase in registrations from London homeowners.

Homeowners in the capital are seeing the Olympics as a chance to go for gold. It represents a golden opportunity to turn the sudden desirability of their homes into a truly special holiday far from the Olympic crowds. The unprecedented demand created by the Olympics means properties across the city are attracting more interest and offers from luxury home swap owners worldwide, and Londoners are now starting to realise just how much holiday they can get for their homes.

The surge in interest in holiday house exchanges during the Olympics means that 20% of all offers made on LoveHomeSwap.com are accounted for by the Olympic period alone. Furthermore, the UKís growing love of the holiday home swap concept will see the number of vacation exchanges double this year, according to the latest estimates. There are predicted to be 3.2 million UK home swap holidays this year Ė and the 2012 Olympic capital will account for 860,000 of these.

A holiday home swap can save an average of £2,000, according to Debbie Wosskow, founder of LoveHomeSwap.com. With accommodation costs often accounting for up to 80% of a familyís holiday budget, significant savings can be made. Love Home Swap lists luxury properties in more than 80 countries around the world, so Londoners can find opportunities for truly cost-effective global getaways.
With high international demand for London homes over the Olympic period, Londoners who have registered with Love Home Swap are receiving offers from owners of extremely luxury homes in sought-after destinations and will often have first refusal on such properties.

The most requested London property on the site is a family home in Notting Hill. There has been a 50% increase in requests to stay there, with offers from homeowners in Mexico, France and San Diego. For Londoners looking to house swap USA homes are the preferred Olympic getaway choice.

It seems that the first Olympic winners this year will be those Londoners who leave the capital but avoid hefty accommodation costs elsewhere.

About Love Home Swap

Love Home Swap is a stylish house swap holidays service where registered members can swap their homes safely and securely with other members around the globe and vacation for less.