The summer of 2012 is going to be one to remember!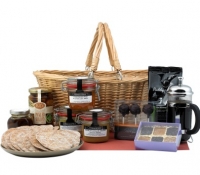 FOR IMMEDIATE RELEASE / PRURGENT

The Forman & Field baking and blogging competition embraces the festivities of the Queen's Diamond Jubilee and London Olympics 2012 with a fantastic food blog competition.

Forman & Field, which offers a range of gourmet gift hampers UK foodies will love, are on the hunt for fine food bloggers to enter the Jubilee food blog competition. Win two tickets to the Olympic Dining Experience and guest post on the Forman & Field blog. Runners up will win a glorious Jubilee hamper. Bring on the food, fun and games!
Prerequisites include a complete love for food, baking and writing. Forman & Field are looking for a unique and tasteful Jubilee Street Party creation. Why not take a traditional dish and add a dash of Jubilee essence or create a wild and dazzling masterpiece – just ensure its original. It's time to grab the mixer for a baking and blogging extravaganza!

Got what it takes to bake?

If you think you've got the skills to bake and blog your way to the top, simply describe a dish you would serve to the Queen on this special day.

Forman & Field will shortlist the applicants, who will be sent a 'Basics Box'. You'll find flour, sugar and two surprise ingredients from the Forman & Field larder. Food bloggers can supplement the Basics Box with any choice of items.
Forman & Field create specialty hampers featuring fine foodstuffs, including Keta Caviar, Maldon Rock oysters, Colston Bassett Stilton and Union Jack Cupcakes in jars. You will then feature your baking session on your blog and the Forman & Field blog.

The deadline for the Food Blog Competition is Thursday 31st May, 2012. Your Jubilee street dish will be judged by Forman & Fields, based on culinary technique, originality and Jubilee flair.
The winner will be presented with two tickets to the Olympic Dining Experience and one guest blog post. The runner up will receive one Forman & Field Jubilee Hamper.

The fine print

Entrants must be from the United Kingdom. Winners will be subjectively selected by Forman & Field. All applicants must provide the necessary information requested, for the Basics Box to be delivered and for winner notification. Winners will be contact via telephone or email, and must respond within 48 hours or they will automatically forfeit their prize. In the event the winner does not respond, an alternate winner will be selected at the discretion of Forman & Field.

About Forman & Field

Forman & Field is a fine food mail order company specialising in fresh, traditional British produce from small, independent producers. Forman & Field pride themselves on fast and convenient service, with the customer feedback at the forefront to deliver the highest quality and service standards. Sharing premises in east London with parent company, H Forman & Son, a 100-year-old family business supplying smoked salmon, caviar and other smoked and fresh fish to the world's leading hotels and finest restaurants.