Dr. Alberto Aceves and the team at Mexicali Bariatric Center are excited to launch a new, innovative website to increase their web presence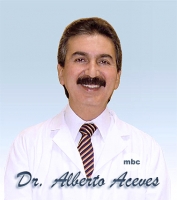 FOR IMMEDIATE RELEASE / PRURGENT

Dr. Alberto Aceves and the teams of physicians and nurses at Mexicali Bariatric Center are pleased to announce the launch of their recently updated website, featuring information on the Mexico / Mexicali bariatric surgery procedures available at their facility. The updated website is part of a comprehensive marketing strategy to help the practice connect with more patients so that they can provide life-changing weight loss procedures. The revamped site, located at http://mexicalibariatric.com, offers in-depth information on a range of bariatric procedures, as well as information about Dr. Aceves and his team.

Dr. Acevesí updated website serves as an excellent resource for current and potential bariatric surgery patients. Visitors to the site can read about the latest treatments, including gastric sleeve surgery in Mexicali. In addition, they can browse weight loss surgery before and after photos, to help gain a better understanding of the kind of results that can be expected from various procedures. The website also showcases written and video testimonials of patients who have previously undergone a bariatric procedure. Dr. Aceves hopes that this information, as well as his links to support groups and obesity information forums, will help educate patients about the experience and all of their surgical options. Finally, patients can read up on their financing options for surgery, and even apply for surgical procedures online as part of a preliminary consultation.

By sharing information about his professional background, his surgical facilities, and the treatments he provides, Dr. Aceves hopes that he can make the entire bariatric surgery process easier for patients. He understands that the decision to undergo weight loss surgery should not be made hastily, and he seeks to provide patients with all of the information they need to feel comfortable, confident and safe.

About Mexicali Bariatric Center

Mexicali Bariatric Center is a leading provider of weight loss procedures in the Mexicali / Mexico area. Lead surgeon Dr. Alberto Aceves has performed more than 6000 bariatric procedures throughout his career, and is widely regarded as a top bariatric surgeon. As president of the Mexican Bariatric Association, he remains up-to-date with the latest advancements in the field, and is recognized as a successful surgeon who many gastric sleeve surgery and Lap Band Mexico patients trust for their weight loss goals. If you are interested in learning more about the Mexicali Bariatric Center, contact the practice today.