Working in a trade can lead to a number of tricky situations where you run out of the right tools, equipment and consumables whilst on the job.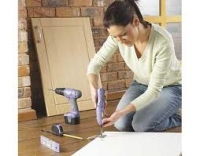 FOR IMMEDIATE RELEASE

If this sounds familiar and you are searching for a way to stop this, look no further than the new mobile phone application from Tool-Net.
Requiring new consumables, tools and other items is a regular occurrence for anyone who works in a labouring job or trade, whether youíre an apprentice or a company director. It can be difficult to leave the job, as there are generally a million other things you could be getting on with, so leaving for the shop can feel like a waste of time.

The Tool-Net app can help you here by letting you order any of the power tools, gardening accessories, fixings, fastenings, hand tools, ancillaries and consumables that you need, whilst on the job. All it takes a couple of minutes on your smartphone and then you can get on with the rest of your working day.
The mobile app doesnít require any downloading and you donít have to pay an annoying fee. All that you need to do is log on to the Tool-Net website and you will be brought to a mobile-friendly version of the website, perfect for the small touchscreen. Within minutes, you can easily browse the massive catalogue of tools, consumables and other equipment.

Whatever you require whilst on the job, be it a nail gum, power drill, fein, Clarke generator or some site lighting, there will be a product for you. You donít need to waste any time with needless trips to the shop when you have access to the Tool-Net app. Simply order, and then get on with your job and wait for the products to come to you.

About Tool-Net

Whether you are a DIY enthusiast, you operate as a sole trader, own a small business or are a buyer in a multi-million pound company, you will find the right products that correspond to your needs. With just a few clicks, you can browse the wide selection of power tools, gardening accessories, fixings, fastenings, hand tools, ancillaries and consumables; and order with complete confidence and security online 24/7.