Halfpricesoft.com partners with trialPay to give away check printing software, time tracking software and check paper for Mother's day. Learn more from www.halfpricesoft.com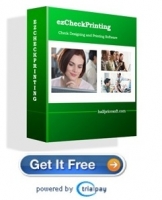 FOR IMMEDIATE RELEASE / PRURGENT

Los Angeles, CA - When Halfpricesoft.com's users send flowers to mom for this Mother's day, they can get a gift for themselves as the same time. Halfpricesoft.com, a leading provider of easy-to-use software for small businesses and families, partnered with TrialPay for the coming Mother's day and lets customers obtain small-business and family software for free when users purchase from advertisers who pay the cost of the software.

Louisville, Ky.-based software developer Halfpricesoft.com specializes in creating software that is ready to use as soon as it's installed; no long learning curve or bulky user manuals. Founded in 2003, Halfpricesoft.com has established itself as a leader in meeting the software needs of small businesses around the world with its payroll software, employee attendance tracking software, check writing/printing software, W2/1009 software and barcode generating software. It continues to grow with its philosophy that small business owners need affordable, user friendly, super simple, and totally risk-free software.

"Everyone loves getting free stuffs. But through our partnership with TrialPay, consumers can get their favorite software for free and get something else they want in the process." said Dr Ge, the founder of halfpricesoft.com. "It's a remarkable way to treat our customers to free software, while ensuring that the software's copyrights are properly obtained."

For this Mother's day, Halfpricesoft.com offers several products for free through TrialPay, including:
- ezCheckPrinting, business version check writing and printing software
- ezCheckPersonal personal check writing software
- ezTimeSheet, computer-based time clock software for tracking employee hours
- blank check stock for use with ezCheckPrinting, ezPaycheck and ezCheckPersonal software
- stock for printing W2, W3, 1099 and 1096 forms

EzCheckpersonal is one hot selection for family users and this check writing software is available for free download at http://www.halfpricesoft.com/check-printing-personal-software-download.asp. Few things are as frustrating as sitting down to pay the bills and realizing the checkbook has run out of checks. Customers of Halfpricesoft.com's ezCheckPersonal never have this problem. With this easy-to-use laser check printing software installed on a home computer, customers have a nearly unlimited supply of checks.

"It's a win-win-win-win situation: the customer gets free product, we make sales, the TrialPay advertiser makes sales, and TrialPay gets commissions." said Dr Ge, "You're getting something for Mom anyway. Why not get something for yourself at the same time?"

To learn more about halfpricesoft.com and the free offers, please visit: http://www.halfpricesoft.com

About Halfpricesoft.com
Based in Louisville, Ky., Halfpricesoft.com is a developer of tax and financial software for small business that is affordable and easy to use, requiring little to no learning curve. Halpricesoft.com titles include payroll software,check writing software, employee attendance tracker, W2 1099 printing software, and Accu2000 Barcode Printing Software. The company website at www.halfpricesoft.com also contains resources and links to help small businesses with their payroll, accounting and tax reporting needs.