Leading tour operator A1cyprus just published extra discounts for summer 2011 holidays, book your summer 2011 holidays with a1cyprus holidays and save money, lowest price guaranteed for North Cyprus holidays said Managing director of A1cyprus.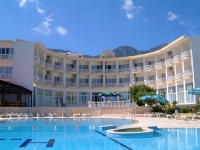 FOR IMMEDIATE RELEASE / PRURGENT

A1cyprus.com just published extra discounts for Northern Cyprus holidays, you won't find better deals for Northern Cyprus online or offline, there is more than 30 hotels in our website and all our hotels selected by our North Cyprus office said Mr.Richards.

Extra discounts for Northern Cyprus holidays including free half board upgrades, free room upgrades, free car hires and special prices, VIP airport transfers and more bonus available on our website.
New offers from A1cyprus.com for Hotel Sempati, book hotel Sempati bb and get free Half board upgrades for JULY worth £ 20 per person including dessert,

Hotel Sempati is one of the best family run hotel in Kyrenia Northern Cyprus run by Cypriot family, west of Kyrenia, there is small beach available within 100 meter to Sempati hotel, all hotel rooms at hotel Sempati have magnificent sea views and balcony, there is also, poolside rooms available around the pool, who want to be around the pool, breakfast and evening meals taken el fresco at outside restaurant around the nice garden and pool, there is opportunity at hotel Sempati food and drink prices very reasonable. There is five star Padi dive centre available in resort at Hotel Sempati If you book Summer holidays at Sempati A1cyprus gives you free Half board upgrades for July stays,
There is twice a week entertainment available at Sempati during summer holidays.

How you can get there ?
A1cyprus offers direct flights holidays to Northern cyprus, you can choose your airport in 57 airports, yes 57 airports from Cyprus direct flights available for Cyprus, no one offering! Not only that, A1cyprus have schedule flights to Ercan airport via Turkey From Stansted every Wednesday and Sunday and Manchester to Ercan every Wednesday until end of October, and extra discounts available for those airports.
Are we protected with A1cyprus.com ? yes a1cyprus.com gives you fully ATOL protection,

Book your north cyprus holidays with confidence says Mr.John Richards.