2010 has seen it's share if natural disasters and the use for tarps has never been greater.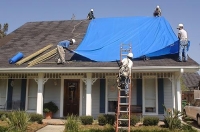 FOR IMMEDIATE RELEASE / PRURGENT

There have been a great deal of natural disasters in the past decade and tarps have come in handy in many ways. Hurricanes, earthquakes and high winds have effected many countries and we have relied on them for protection. The Red Cross uses them on a regular basis as do many other industries.

Tarps were used in Haiti to make temporary shelters for the people who lost their homes. They were used to cover damage to buildings that were reduced to mere shells or completely flattened. They protected people from the subsequent rains that followed the earthquake.

They can be used to collect water when hung upside down during a storm in areas where the water supply has been cut off or contaminated and drinking water is needed. Another use is for gathering firewood after a disaster to create warmth and for cooking and can be used to gather anything you need to haul around. You can carry a great deal of objects by securing a tarp around them, you can gather more objects than by carrying items in your arms.

High winds did a lot of damage in the city of Chicago and tarps were used to cover the broken glass from the buildings that was scattered on the streets keeping people safe. Many people used poly tarps to cover damage to their homes.

Since the oil leak in the Gulf prices of some tarps have doubled and will remain high until it is contained. It is a necessary item that every home should have. They can be used to keep moisture off of things that you store outside. They can be used to keep you off of the ground during a disaster. They will keep you dry in a storm. During tornado season tarps were used to cover areas of buildings that had been ripped off protecting the contents of the building from further damage until a repair could be made.